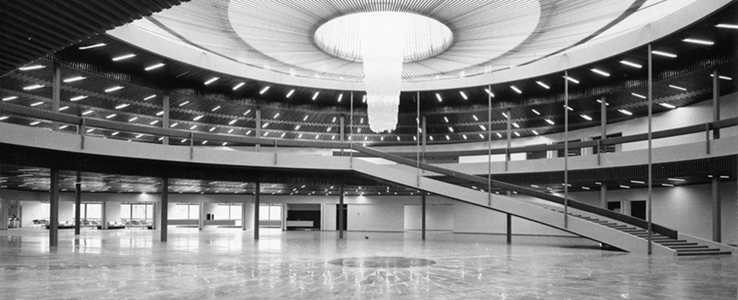 Unique architecture
Opened in October 1970, the Palacio de Congresos y Exposiciones de Torremolinos (Congress and Exhibition Centre) was the result of a project designed in 1967 by the architects Rafael de la Hoz and Gerardo Olivares James, on behalf of the developers Cooperativa de Promotores de la Costa del Sol. The building, which became the state heritage property in 1971, responds to a design with a clear organic flavour – in other words, "the organisation of space in harmony with the well-being of people".
Its construction was a milestone for the Costa del Sol and Andalusia, and opened the way to the arrival of convention tourism.
The complex is built on an estate of 70,000 square meters, of which 18,000 square meters are gardens.
Situated in a privileged location in the municipality of Torremolinos and located in the upper area of the town on a hill overlooking the sea, the Congress Centre is an icon of Malaga's coastal landscape.
The building is arranged in a circular format around which the various auditoriums, meeting rooms, administrative offices and annexed buildings are distributed. The central hall is presided over by its most iconic visual symbol, an emblem of convention and business tourism in Spain: a large translucent dome with an unprecedented crystal lamp hanging from the centre of the exposed radial roof, falling like drops in a waterfall spilling over the centre of the composition.
Name:
Name: Palacio de Congresos y Exposiciones de la Costa del Sol (Costa del Sol Congress and Exhibition Centre)
Address:
Calle México, 3, Palacio de Ferias y Exposiciones de la Costa del Sol
Agents:
Rafael de La-Hoz Arderius (Architect)
Gerardo Olivares James (Architect)
Chronology:
1967 – 1970 Project and implementation (Cooperativa de Promotores de la Costa del Sol)
Listed grade:
0
Protection:
Protected
Typology:
Public facility
Uses:
Leisure and hospitality
Style:
International Organic Style, "Estilo del Relax"